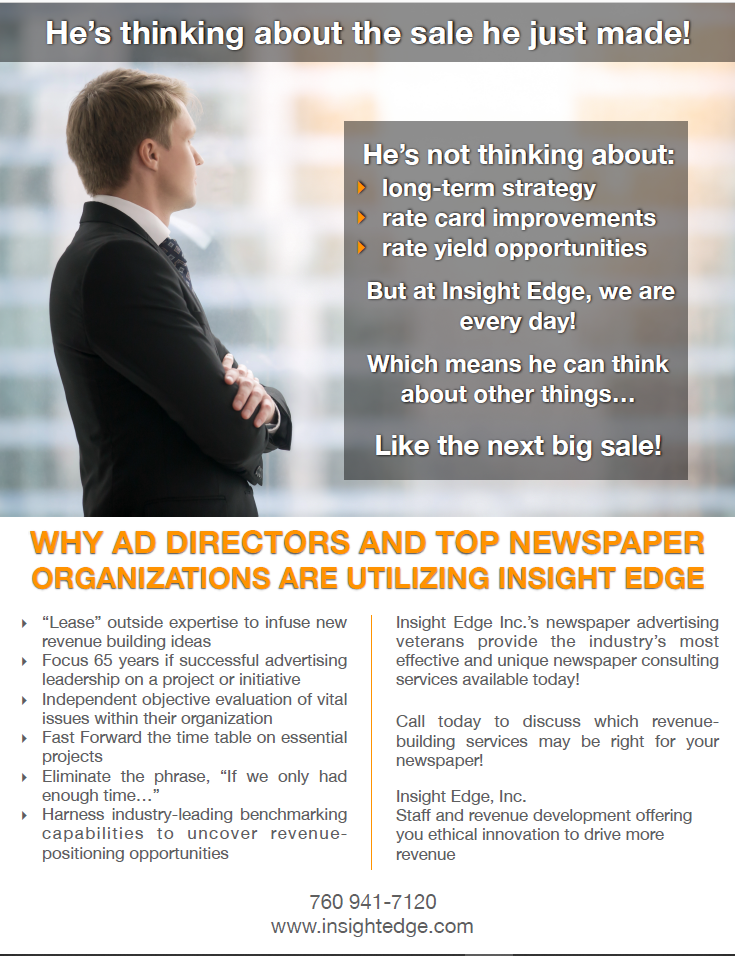 Insight Edge Knows Print and Digital Rate Cards
Since 1999, this print and online newspaper-specific service has been one of most requested projects we receive here at Insight Edge (which is why it gets its own tab on the website!). While it is not practical to include all of our pricing analysis options here, we do have the resources to look at and evaluate your rate structure as comprehensively as you desire. Most of our customers request specific recommendations based on our findings and exact steps on how to effectively implement those recommendations both internally and with their customers. You will find that Insight Edge does not spend a lot of time with "theoretical concepts" but instead focuses on ideas and opportunities that will translate into increased revenue on the street!
We have first-hand experience with consultants who deliver ideas that look good on paper, but don't hold water with your customers and more importantly, your staff. In fact, on a fairly regular basis, we get called in to make sense of and evaluate the findings of other consultants! There is a HUGE difference between being a consultant for newspaper companies and actually understanding the industry. We know the industry because we have lived it. In other words, we have been in your shoes and know how to identify and deliver results that you can use!
Contact us today to learn more, discuss your specific needs, and/or obtain a quote.